Recently, Omaha was named one of the 10 Best Mid-Sized American Cities for Millennials by Gogobot, a local discovery and travel research application and website.
Gogobot included Omaha because of its thriving music scene, art culture, creative dining options, and their love for craft beer. These attributes could not be better placed! Let's explore each of these millennial-attracting qualities to unveil more about Omaha's appeal to the younger crowd.
Photos courtesy of  Hello Holiday, V.Mertz, + Beansmith Coffee Roasters
Omaha Has a Thriving Music Scene
Omaha has an ever-growing and exciting music scene that attracts millennials, and NPR certainly agrees. While local record labels typically play a more under-the-radar role in a city's music culture, Omaha-based Saddle Creek Records has strong ties to one of the best music venues in town. In the early 2000s, Robb Nansel, co-founder of Saddle Creek Records, opened The Slowdown, a hip and well-loved music venue in NoDo.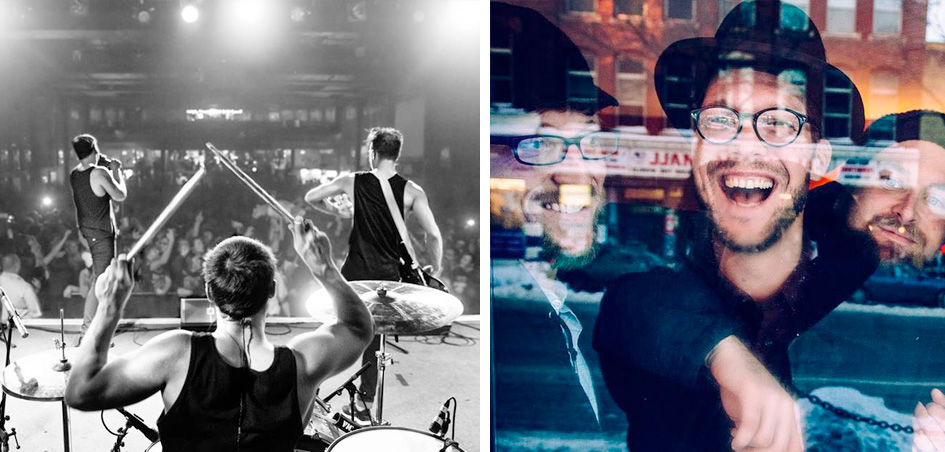 Photos courtesy of  The Slowdown
The Slowdown celebrates local musicians in its unique mixed-use space, comprised of a live music venue, shops, restaurants and apartments. The bands that grace the stage at The Slowdown attract crowds of young folks, who can hear new music in an intimate setting while sipping on a drink from the bar.
The Washington Post highlighted The Slowdown's effect on the neighborhood, and made a case for a local music scene's ability to positively influence a city's economy. And we agree! A cultivation of culture and the arts can do nothing but improve an area's economic state.
Many local music lovers are aware that Conor Oberst grew up and started his career in Omaha. Oberst is best known for his work in Bright Eyes, but many may not know that he is one of the founding members of Saddle Creek Records and later co-founded Team Love Records out of New York. Oberst's involvement in the local indie music scene surely has an impact on its evolution over the years.
Omaha's Art Culture is Strong
Even though millennials care a whole lot about the latest technology, they have a strong aversion to all things handmade, locally sourced, and of artisan grade. This strange dichotomy between instant gratification and long-term satisfaction is a mystery. But alas, Omaha's thriving art culture has attracted millennials from all over.
One of the more obvious ways to experience art is at the Joslyn Art Museum. The museum's 1931 Art Deco building is a work of art itself, and holds several galleries, a 1,000-seat concert hall, a fountain court, a lecture hall, classrooms, a cafe, and a shop. This is a major source of artistic expression in the community!
Photos courtesy of  Joslyn Art Museum + Bench
Perhaps a more hands-on way to experience Omaha's thriving art culture is by taking a class at Bench. At this collaborative co-working space, you can learn from experienced artisans and builders in one of their many classes focusing on specialty crafts like woodworking, screen printing, metalsmithing, ceramics, photography, coffee roasting, and more! This creative community is proof that Omaha has a knack for art.
Omaha Has Many Creative Dining Options
One of the main things millennials seek in a city is a selection of trendy dining options where they can chat with friends over farm-to-table fare, a fancy cocktail, or a local brew. The cuisine scene in Omaha completely capitalizes on the city's love for creative dining. Some of our favorites include…
Photos courtesy of Blatt Beer & Table + The Boiler Room
Blatt Beer & Table for their craft beer and curated pub food. We love their handmade sausages, pretzels, sauces and frites. Order one of Blatt's 100% Angus beef burgers served with Guinness-braised onions on a buttered brioche bun, or their chicken and waffles with honey-orange butter and cracked black pepper gravy.
Block 16 for their exceptional farm-to-table street food. They offer combinations that are a little risky, a lot of fun, and as fresh as possible. Block 16 sources their ingredients from local businesses — primarily their family farm that has been in their family for over 100 years.
Kitchen Table for their slow fast food and local focus. They serve real food made from scratch using the best local ingredients possible. Stop by for a sandwich, a simple snack, or a salad during the day, or check out the weekly dinner menu that is always changing.
Le Bouillon for their approachable representation of comfort foods found in rural France. As is important for the younger folks, Le Bouillon sources the best ingredients from local producers, and presents their dishes in an open and alluring space perfect for socializing.
The Boiler Room for its juxtaposition of new food in an old building. Their menu is a showcase of the talents of local growers and the finest samples of their harvest. Enjoy their exceptional food in the 120-year-old boiler room that once provided heat for the historic Bemis Bag Building.
Omaha is Gaining Momentum in the Craft Beer World
Omaha was recently included on Thrillist's list of 10 Untapped Beer Cities Poised to Blow Up. And thankfully, the community is capitalizing on this increase in craft beer brewing with events like Omaha Beer Week and an Omaha Brewery Tour with Visit Omaha. (Word to the Wise: Before the brewery tour, Omaha visitors can request a Craft Brew Explorer's Journal to receive a free pint of beer at each of the nine participating breweries.)
Some of our favorite local craft breweries include…
Benson Brewery is a cozy neighborhood brew-pub serving exceptional beers made with American and English standards. This local brewery is housed in a remodeled 1910s movie theater, offering a turn-of-the-century-meets-modern motif.
Farnam House Brewing in Midtown offers something a bit out of the ordinary, with artisan farmhouse ales and experimental sour ales. They rotate styles based on the season, and are known for some pretty out-there methods in brewing. The end result is glorious!
Infusion Brewing Company is another Benson neighborhood brewery inside a historic building. Their seven-barrel brewhouse and taproom are housed in an old 1917 meat market, giving it a perfect authentic, industrial, and rustic feel.
Lucky Bucket Brewing Co. is the perfect place for millennials who value raw authenticity, as guests are seated amongst the action next to the brewery's massive brew tanks. Don't miss their famous Lucky Bucket Pre-Prohibition Lager, the hand-crafted session beer that started it all.
Nebraska Brewing Co. in Papillion is an airy alehouse that has made a name for themselves in Omaha's craft beer revolution. Pair Nebraska Brewing Co.'s delectable American fare with one of their high-quality craft barrel-aged beers!
Upstream Brewing Co. has been a local favorite since they started brewing craft beers in 1996. Their award-winning brews are brewed on site in a variety of styles — from their hoppy Capitol Pale Ale to their sweet Raspberry Lager.